I'm too chicken to straight line quilt....!! This quilt is to be gifted on Sunday and I'm going out of town for a few days... I didn't have time for ripping out stitches. I also realized tomorrow is the deadline for Sew Inspired's Free Motion Link Up, so I thought I'd post now.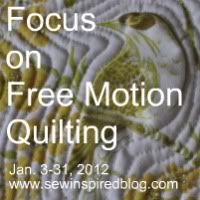 I quilted it last night. Although I've done stippling many times, now. I've never tried anything else. These swirls were just as easy, although I'm not sure I like them as much. I like the organic feel/look of stippling. I had "my groove on" a few times, but lost it while negotiating some breaking thread.... Seems like my Horizon might not like my mason jar trick after all. I'm thinking of ordering the spool stand for the back.
Lastly, after reading an interesting
post
by Leah Day, where she talks about the need to be able to Free Motion Quilt in a straight line, I wondered if I might ever be good enough to do straight line quilting in free motion style, without the walking foot!
Binding to come - Kona Charcoal.